Hot Oil Treatments For Dogs

Jackie Larocque, CPG, CDT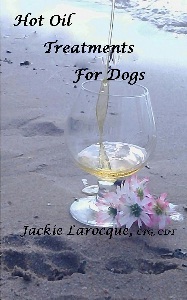 Ever wondered if Hot Oil Treatments are possible for your canine buddy?
You Betcha they are!
Not only are they possible, but are extremely beneficial for Bowser.
Rejuvenation of skin
Moisturizing fur
Relaxation
Relief of sore skin
Who wouldn't love a one?
How is this beneficial?
Dogs are constantly bombarded with pollution, chemicals, fluctuating temperatures and humidity. These factors reveal themselves in the appearance of their fur and condition of the skin.
Allergies are becoming more prevalent in our canine family members and wreak havoc on both the skin and fur.
Seasons can adversely affect the condition of the fur causing the skin or fur to be either too dry or too greasy.
Our dogs are living longer today as medical treatments have evolved, nutritional value of available dog foods gets better and the human animal bond is more than a fairy tale. With many of our pets reaching senior years, sometimes the coat lacks its youthful luster.
Frequent bathing with low quality shampoo is another culprit that can often take a luxurious coat and turn it into a brittle coat of fur that breaks if you touch it.
Oil treatments can put the spring back into the dull lifeless coat, aid in sprucing up the skin, give relief to irritated skin and protect against harmful chemicals.
But how do we help our four legged wonders experience the effects?
Hot Oil Treatments For Dogs leads you step by step to treat your pup in the revitalizing process of hot (not too hot) oil.
Lists all the equipment you'll need, which you can easily acquire at your local pharmacy, and how to use it.
Recipes to tickle your imagination, to treat certain skin or fur symptoms or to just make Fido feel goooooood. Ingredients can be found at your local grocery and health store.
Secrets to a healthy coat and when a treatment can aid in making the fur shimmer with delight. Jackie Larocque brings to you different application techniques that she uses in The Garage Grooming Shop. Jackie lists several recipes developed for dogs, as well as the benefits of the different essences used in the mixtures.
Full oil treatments as well a quickie spritzes are included for your benefit as well as your faithful companion.
Whether you are a pet groomer or canine owner, This easy to understand book, gives you all you need to spruce up a dull, dry coat, help flaky skin and relieve irritated skin.
You will also gain the building blocks to start your own exploration into the world of oils for canines if you so choose.
But there is no need to go further than this manual to reap the benefits, or should I say, to give the benefits to your dog!
Hot Oil Treatments For Dogs, is now available in digital format for $4.99.! To purchase the digital copy, click here!
For soft cover in the USA, order here.
For Canada, order here.