Store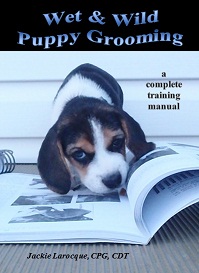 "I would recommend this book to the professional, novice and puppy owner alike. Not only will you gain some serious puppy knowledge from Jackie's book, you'll enjoy the journey, as well." JKL Training Academy Joy Waters, British Columbia
After reading this book, you will be able to identify different personalities of puppies and be able to train them in a safe gradual manner for grooming. You will be comfortable introducing different pieces of equipment to the puppy, different positions, use the troubleshooting guide for common problems that creep up in each visit with different personalities, will understand every aspect of the grooming process and can take a puppy from the first groom to the third groom with a precise training guide. If a pet owner follows the methods for their puppy, it will be an easy transition from home to grooming shop. Pet groomers will also be able to market the puppy program successfully.
---
Puppy Pack
The Puppy Pack compliments Wet & Wild Puppy Grooming for the professional groomer. A one time download allows you to access the publication at any time and print off copies when you need them.
Included in the Puppy Pack:
A brochure outlining the puppy program for prospective clients.
Report cards for each visit.
The Puppy Press newsletter loaded with helpful information on puppies, including housebreaking, grooming, crate training, feeding, medical and more.
Homework pages that clients can refer to in between visits.
Certificate for puppies that complete the puppy grooming program.
Coming soon
---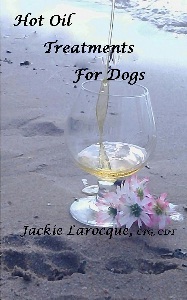 A guide on how to give your dog a hot oil treatment. Different application methods, recipes, and secrets to a healthy coat.Whether doing hot oil treatments at home or in a grooming shop, Hot Oil Treatments for Dogs will take you step by step.
Several recipes for different aliments are included, with some ingredients you may already have in you cupboard.
Whether aiding a skin aliment or just for a treat, a hot oil treatment is an easy add on service to a groom that will delight both customer and dog.