Wet & Wild Puppy Grooming;
a complete training manual
Jackie Larocque, CPT, CDT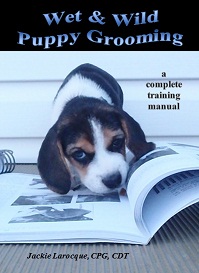 Grooming a puppy is like painting a picture during an earthquake.
Wet & Wild Puppy Grooming, gives groomers the resources to produce solid confident dogs for grooming by starting at puppy-hood, with a step by step training system to introduce puppies to the grooming experience and equipment in a safe gradual manner.
"Jackie's book gives new and experienced groomers a leg up on grooming puppies. She pays special attention to safety for the puppy and groomer" Kelli Norris., Shampoodles, Edmond, OK
Many grooming behaviour problems in adult dogs start at the second groom in a shop and progressively get worse. This result is from a lack of understanding puppies, the stages they go through and improper handling by groomers.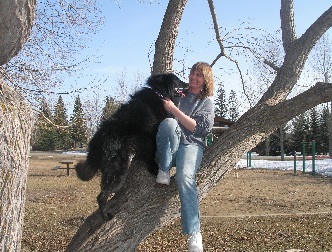 Jackie Larocque combines her dog training and grooming experience to show you a step by step program of teaching puppies the grooming process. This program was refined over five years and has produced confident dogs that accept and enjoy being groomed.
"I would recommend this book to the professional, novice and puppy owner alike. Not only will you gain some serious puppy knowledge from Jackie's book, you'll enjoy the journey, as well" Joy Waters, JKL Pet Groomer Training Academy, British Columbia www.jklgrooming.com Young puppies are learning vast amounts of information while developing, and the first or second experience in a grooming shop can dictate how the puppy will react in grooming shops for the remainder of his life.
"I found myself saying "of course that makes sense" a lot. I can't wait to start my own puppy program." Valerie Ferguson, The Dog Shack, Kamloops, BC
The most important process of grooming has not been addressed by the grooming community; the process of teaching a puppy the grooming process in a consistent, positive, step by step program. The teaching of puppies in a grooming shop was left solely up to the groomers; however, not every groomer is a dog trainer. Some groomers have a knack with puppies, others do not.
"MARVELOUS! Very useful information for pet care professionals and owners alike. It really shows insight to the different personalities and techniques -- and what to expect. I LOVE IT!! " Laryssa Pugh. Hound and Mouser, Creston, BC
Wet & Wild Puppy Grooming will teach you to take a puppy from the first groom to the third groom with a precise training method that is easy to understand. A pet owner can easily follow the methods for their puppy, should they choose to groom at home. and it will be an easy transition from home to grooming shop. Pet groomers will also be able to market the puppy program successfully.
You will learn:
• How different stages of puppy=hood affect behaviour in the shop.
• How to introduce grooming equipment in a safe, non-threatening manner.
• Training the puppy on the table in a variety of positions and holds.
• Troubleshooting puppy problems.
• How to train a puppy every aspect of being groomed.
• Plus, marketing strategies for the professional groomer to alert your clients of the puppy program.
Wet & Wild Puppy Grooming is easy to learn for anyone professionally involved with dogs as well as owners with a new puppy. For professional pet groomers that offer a puppy program in their business, a puppy pack is available to compliment Wet & Wild Puppy Grooming. The Puppy Pack is a one time download for professionals to print valuable information for their clients to suit their needs. more
Wet & Wild Puppy Grooming is now available in soft cover. Kindle version coming soon!